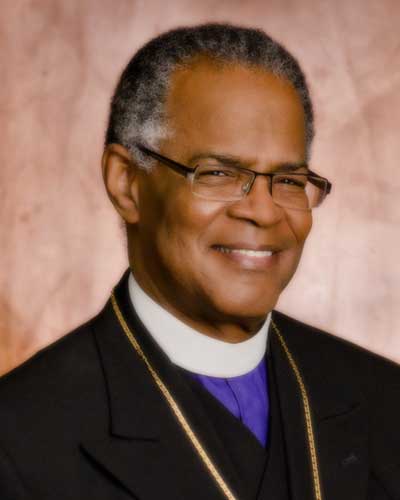 Bishop Lorenzo Kelly
Bishop Lorenzo Lee Kelly was born in Winter Park, Florida in 1943the son of Thomas and Beatrice Kelly and brother of Barbara, Charles and Neva. Mrs. Beatrice Kelly and her family moved to Evanston, Illinois in 1955, where he attended Haven Junior High School and Evanston Township High School, graduating in June 1961. He worked one year and attended Loop Junior College the next year. In August 1963, he had the honor of being the first black male to be hired in a North Shore Bank during those heated times of civil unrest of the 60's. As his job became a career, he worked his way up within the bank being promoted as he went and while pursuing higher education through the American Banking Institute. He started in the Proof Department, worked as a teller for a number of years before serving as Customer Service Staff, Assistant Cashier, Personal Banking Officer and, finally, as Assistant Vice-President and Drive-In Bank Manager. God gave him favor within the bank and without, in the Evanston and surrounding community.
As a young boy in Florida, the Kelly family had been members of Bethel Missionary Baptist Church in Winter Park. They became members of the Springfield Missionary Baptist Church, in Evanston, and this is where Kelly met his bride-to-be, Evelyn Ann Heard, and where the Heard family were also members. On October 10, 1964, he and his fianceé were wed at the Springfield Missionary Baptist Church in a beautiful ceremony, attended by a standing room only crowd of friends and family from the churches and the community. To the union of Lorenzo L. and Evelyn A Kelly was born three beautiful sons — Thomas (deceased February 2008); Scott, and, Loren. They are blessed to have two daughters of marriage — Shelly is married to Scott and they have three awesome daughters – Mikaela, Aleah, and Jahnaya; and, Cara, was married to Loren and they have two beautiful daughters – Beatriz and Grace. The Kellys are blessed to have many-many other children whom they love as though they were born to them.
In 1969, Kelly moved his churchmembership from Springfield Baptist to Faith Temple Church of God in Christ, also, in Evanston, Illinois where the pastor is Bishop Carlis L Moody, Sr. In 1973, Kelly under the leadership, teaching, and tutelage of Bishop Moody, acknowledged the Lord's call upon his life as a minister of the Gospel. Kelly became a licensed minister on January 20, 1974 and immediately began attending the Moody Bible Institute's Evening School Division in Chicago, Illinois (this school is not associated with Bishop Carlis Moody). Graduating in May 1978, he continued to serve in the ministry of Faith Temple Church of God in Christ in Evanston. Upon achieving the requirements for ordination as an elder, he was ordained as an Elder on August 25, 1979 by the late Bishop Louis Henry Ford of Chicago, IL. In August 1982, the Kellys were led by the Lord to move to Rapid City, South Dakota, to begin their ministry. He left the bank management position at First Bank of Evanston, after nineteen years and she left her office manager position at College Entrance Examination Board's Midwestern Division, after four years. The new church which they founded in Rapid City was named after their home church in Evanston, Illinois, Faith Temple Church of God in Christ. 
On November 12, 1990, Kelly was promoted to the office of "Bishop" — from being an ordained Elder to the Bishop of the State of South Dakota for the Church of God in Christ (appointed by the late Bishop Louis Henry Ford, the appointment was ratified by the 1989 General Assembly). He was officially consecrated to the office of Bishop on May 30, 1991 in Rapid City at a service officiated by the late Bishop Ford. As a Bishop, he is one of, approximately, 175 other Church of God in Christ bishops and is a member of the COGIC Board of Bishops. Bishop Kellyis frequently invited as a guest Evangelist/Preacherto churches all across America as well as to foreign countries. 
He served as Jail Chaplain and has ministered to inmates at the Pennington County Jail as well as State Prison inmates for more than twentyyears. In addition, he served on the Pennington County Jail Advisory Board for over twenty years. Over the years, he taught a weekly life-changing class entitled "Maximized Manhood" for the male inmates with up to forty men attending weekly, there was always a long waiting list of those desiring to attend. He writes and visits prisoners throughout South Dakota and the surrounding states as a follow-up to those from the jail. He retired at the end of December, 2006 from his regular involvement with the jail. Because of his work in the Rapid City community, Bishop Kelly received the South Dakota Education Association's Human and Civil Rights award in 1995. In May of 2002, he received the "Liberty Bell" Award from the Pennington County Bar Association for his work with jail and prison inmates. In May of 2006, he received the "I Believe In Kids" award from Well Spring, Inc.
Bishop Lorenzo L. Kelly is quite a MIRACLE as he is the survivor of an aneurysm of the thoracic aorta which he suffered and underwent emergency surgery for replacement of 18″ of his aorta on January 28, 2006. Medically speaking, only ten percent of people are blessed to get off the operating table but then to be able to go on and live a good, healthy life is rare. He died approximately five times on the operating table and had other severe complications including accidentally receiving fourth degree burns to the front of both legs. He had a number of surgeries while he lay critically ill for several weeks (and was revived, at least, twice more from death) during those weeks. Later he required additional skin graft operations to repair the damaged legs. During hospitalization, he sustained the hospital staph infection, MRSA, which has killed hundreds of people but thank God he lived. He also had an e-coli infection in his left knee cap, twice, between the two skin graft surgeries. It's been a long suffering way but God's grace and mercy have proven to be enough to bring this great man of God through to nearly complete recovery. During the surgery to replace his aorta, his body had to be frozen and in that frozen state without blood supply reaching the eyes he suffered strokes to both eyes. For a number of weeks, he could not see and when his vision partially returned, the doctors could not promise a complete recovery. His left eye's vision is completely restored and the right eye is almost completely restored – PRAISE THE LORD! Additionally, because he was on life support for a number of weeks, the breathing tube inserted down his throat which rested on his vocal cords caused some damage. The diagnosis seemed pretty grim that he would speak barely above a whisper and, hopefully, after about a year the good vocal cord would begin to compensate for the damaged one. Our God is so awesome because Bishop Kelly has been preaching and singing for months and his vocal abilities are completely restored. PRAISE THE LORD! He recorded a CD which was released during the summer of 2007 and features songs that have been dear to him over the years. The CD is entitled, "My Songs – by Bishop Lorenzo L. Kelly" and includes studio work as well as the live performance.
The Author — Bishop Kelly has written a book about his death and life experience entitled, "ALIVE AGAIN! My Story: A Miraculous Memoir", which was published by Xlibris. The website where the book can be ordered is www.bishopkellyaliveagain.com.
Bishop Kelly has some unique hobbies – many have been recipients of the beautiful quilts, bedspreads and throws that he has crocheted. It's a skill he learned as a child and finds it a great stress reliever to be able to pour himself into his projects. One of his hobbies that will soon become a business venture is making cuff links. Again, many young men and many friends and sons in the ministry have seen and admired his work – some of you are wearing and enjoying many compliments about them with your fancy French cuffed shirts.