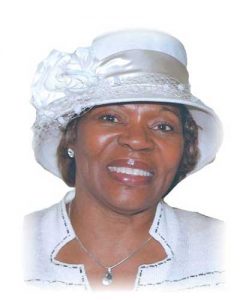 Lady Evelyn Kelly
Mother Evelyn A. Kelly
September 18, 1945 to January 8, 2014
Lady Evelyn A. Kelly was born in 1945 in Greenville, South Carolina and was the fourth living sibling of James, Wallace and Grace into the union of Beatrice and Clifton Heard who were living in the South at a poignant time in history in the years prior to the Civil Rights struggles. In the midst of hardships and hard times, Evelyn's parents left the South and moved up "North" in 1949, leaving their children with relatives for seven long years and it proved to be a long and tedious time for the children as well as the parents. Clifton and Beatrice worked hard, at whatever they could find, and saved every penny possible. In December 1955, they finally were able to purchase the wonderful home in Evanston, Illinois and relocated their children there in the summer of 1956.
In 1956, Evelyn was almost eleven years old when her parents were able to move the family to Evanston, Illinois and she attended elementary, junior high and high school in that community. Her previous education had been mostly in two-room schoolhouses in the backwoods of Easley, SC. Her parents were already members of the Springfield Missionary Baptist Church and immediately got their children involved in church activities. It was at church, at age eleven, that Evelyn met her future husband where both of their families were members – history was in the making. Lorenzo L. Kelly was quite a fine young man who was the boyfriend of one of Evelyn's friends and it was quite a surprise how God got them together but we know that it was meant to be. They began courting (not dating) when Evelyn was fourteen years old and continued throughout her four years of high school. In June of 1964, she graduated from Evanston Township High School; and, in July, began attending Bryant & Stratton Business College in downtown Chicago. On October 10th she was married to her childhood sweetheart, Lorenzo. Since they were childhood sweethearts, Evelyn and Lorenzo have been like magnets drawing wonderful young people who call them "mom" and "dad" and now, celebrating nearly 46 years of marriage, they have hundreds of "children" now all over the world.
Their three sons were all born in Evanston and grew up in the Evanston and Skokie school systems. After eighteen years of marriage, the Kelly's along with their three sons, Thomas, Scott and Loren, moved to Rapid City, South Dakota in August 1982. Their purpose for making this move was to establish a church and ministry. They named this new church ministry after their home church in Evanston, Faith Temple Church of God in Christ where Bishop Carlis L. Moody is the founder and pastor. Two of their three sons are married to wonderful wives – Scott's wife's name is Shelly and their daughters are
Mikaela, Aleah, and Jahnaya; Loren's wife's name is Cara and their daughters are, Beatriz and Grace. The Kelly's children and grandchildren all live in the Minneapolis, Minnesota area. Their firstborn son, Thomas Christopher Kelly, passed away on February 2, 2008 just before he was 42 years old — after suffering a brain aneurysm and lying critically ill nearly four weeks in intensive care. He is greatly missed.
In May 1965, Evelyn graduated from Bryant & Stratton Business College with a Diploma in Executive Secretarial Training, and began a nine-year career as an executive secretary working for various companies (Northwestern University; Baxter-Travenol Laboratories; Allstate Insurance Company; O'Donnell, Wicklund, & Pigozzi Architects; Films, Incorporated; and Denticon Dental Laboratories Company). Later, after developing management skills she was employed as an Office Manager by the Summy-Birchard Music Publishers from 1973 to 1975 (when their youngest child was born); and, Business Administrator for the College Entrance Examination Board from 1978 through 1982. Her management responsibilities included Personnel Administration, Fiscal Budgeting, Regional Meeting Planning, Purchasing, Accounting and miscellaneous. She attended Northwestern University's evening school division taking a personnel administration course. Over the years, she attended several American Management Association business seminars and workshops in accounting, business administration and other miscellaneous business related subjects. After moving to Rapid City, she worked for College Survival, Inc., from 1985 to 1988 and was purchasing agent as well as the meeting planner which required her traveling to educational workshops which she organized and were held all across America and in Canada.
The Kelly's established Faith Temple Church of God in Christ in September of 1982 and, for more than twenty-eight years, have lovingly served their congregation as well as the Rapid City community. Faith Temple Church is known, casually, as the "Black" church in town since Bishop Kelly is the only Black pastor out of more than one-hundred other local churches. However, they are blessed to pastor a multi-racial and culturally diverse congregation that is a tremendous example of how we believe God desires His church to be. It is a lovely sight to see God's people worshipping, working and serving together for the cause of Jesus Christ regardless of race, creed or color. When the church was established Evelyn's husband was an "Elder" but in 1989 was selected to be the Jurisdictional Bishop for the State of South Dakota Church of God in Christ. The elevation of her husband, Bishop Lorenzo L. Kelly, brought an automatic elevation of his wife. In addition to her pastor's wife duties, Lady Kelly serves as the Church's Business Administrator; serves on the church's Board of Director's as Treasurer; is Director of the Faith Temple Women's Department; Oversees the Youth Department ministries; is a licensed Evangelist; and, in August 2006, was elevated to the office of Pastor by her husband, Bishop Lorenzo L. Kelly. She serves as Co-Pastor beside him as he has continued his recovery process from the aneurysm of the thoracic aorta that he sustained in January of 2006. He was revived from death five times while on the operating table and, also, accidentally sustained fourth degree burns to the front of both legs during the surgery. He has endured additional surgeries and extensive suffering because of the burns, but God is restoring his health daily and we are a continuing part of a living-breathing miracle.
Lady Evelyn A Kelly served dually, for twelve years, as the Acting Jurisdictional Supervisor from 1995 until 2007 while also serving as the bishop's wife. Throughout the past twenty years she has diligently worked closely with the president of the Church of God in Christ's Bishops' Wives Circle coordinating the Bishops' Wives Circle Annual Banquet; publishing the Bishops' Wives Circle Annual Directory; as well as maintaining the Bishops' Wives Circle Mailing List. While serving as Acting Jurisdictional Supervisor, she was responsible for overseeing the State of South Dakota Women's Department along with appointing, training, and licensing missionaries/evangelists; and, finally, for the State of South Dakota's Annual Women's Convention. In her role as the church's first lady, she plans and oversees the monthly Women's Fellowship Meetings, Annual Retreat and other women's fellowship functions.
In the Rapid City community Lady Evelyn served as a Hospice Volunteer, served on the Board of Directors for the Crises Pregnancy Center; served on the first Board of Directors for Black Hills Habitat for Humanities; served on the Board of Directors for the Women Aglow Evening Chapter; helped to establish a local Pastors and Ministry Wives Fellowship; for six-years taught a weekly two-hour session to the female inmates at the Pennington County Jail on "Becoming a Woman of Excellence"; and, served four-years on the Black Hills Symphony Orchestra Board of Directors. She coordinated the 2001 Good Friday Concert bringing together choirs from the community as well as the Black Hills Symphony Orchestra. This tremendous performance, of Handel's Messiah and Gospel Selections, was attended by close to 1400 people from the community and brought together four different denominations in the 80-voice choir, and a chamber orchestra. Oftentimes, Lady Evelyn is invited to sing and/or speak at local churches and it is such a joy for her to share the Lord with others. Lady Evelyn has also been featured in an annual concert, usually on Good Friday, which is attended in a tremendous way by the Rapid City community.
As a entrepreneur — in 2004, Lady Evelyn was blessed to start a new business just one block east of the church. Everose Productions Recording Studio, Inc., opened to the public on June 1, 2004. She was able to sell that commercial property and relocate the studio into her home in 2007. Through God's grace and provision the studio offered state-of-the-art digital recording services to the local community as well as serving clients from across America. The studio has been privileged to record a variety of projects involving singers and songwriters, play production teams, organizations recording multi-language projects including the old Lakota language; karaoke singers recording their performance songs; bands; rappers; and more. Production projects included CD's by Bishop Lorenzo Kelly; Gordon Howie; D'Vine Favor; herself, "Lady Evelyn" and others. She found it necessary to close Everose Productions Recording Studio in 2010.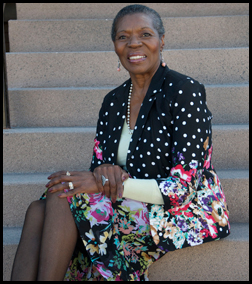 She is a gospel singer and songwriter and self-produced a number of albums and loves to minister in song to the Lord's people. Her most recent CD entitled, "Lord, You Are Incredible!" was released April 2005 with a concert held at the Civic Center Theater in Rapid City, SD. Even so, Evelyn is virtually an unknown but loves to minister in song wherever she's invited as well as when she accompanies her wonderful husband on the evangelistic field. Most of all, Evelyn's joy is in working for the Lord and serving His people – she delights in her "projects" and always have several waiting in the wings. Evelyn is grateful to be God's chosen handmaiden for such a time as this as she works diligently beside her husband, Bishop Lorenzo L. Kelly, as his true "help mate".
Lady Evelyn has helped her husband author his first book which was published in March of 2010. The book is entitled, "ALIVE AGAIN! My Story: A Miraculous Memoir" By Bishop Lorenzo L. Kelly. It is a "must read" as it details the amazing healing and restorative power of the Lord. She is continuously in awe and happy for what God has done for them in keeping her husband alive, strengthening, and making him whole and well. She is always praising the Lord for his wondrous works among the children of men!
The Lord decided to call our mother home January 8, 2014. She will be missed by all.