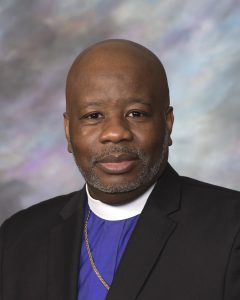 Pastor – Bishop Troy Carr
Troy Michael Carr was born in New Orleans, Louisiana March 11, 1963. Because his father was in the United States Air Force, Troy and the family moved to Hickam AFB, Honolulu, HI in 1970. During this time, Troy's mother and father received salvation under the ministry of the Church of God in Christ. Troy has continued in COGIC since this early beginning. As a youth and in his early teens, Troy sang in the choir, directed the adult choir and played the drums.After graduating high school in 1981, Troy attended Loyola Marymount University in Los Angeles, CA. While in college, Troy enrolled in the Air Force ROTC program. In 1985, Troy graduated from Loyola with a bachelor in Business Administration and was commissioned as a 2nd Lieutenant in the United States Air Force. Troy received his first duty assignment to Ellsworth AFB, South Dakota as a Missile Launch Officer in 1986.
After recommitting his life to Jesus Christ 1987, Troy joined Faith Temple Church of God in Christ, founded and pastored by Bishop Lorenzo L. Kelly. Troy worked in many auxiliaries in the church until he heard the call from God to preach the gospel. Troy accepted this call to ministry and in July 1989, was licensed as a Minister at Faith Temple Church of God in Christ. The Air Force moved Minister Carr in October, 1990 from Ellsworth Air Force Base to Kadena Air Force Base in Okinawa, Japan. This was his second assignment. In December, 1991 Minister Carr received his Master of Business Administration from The University of South Dakota. In June of 1992, Minister Carr received his ordination to Elder.
Prior to him leaving the Air Force, Elder Carr gives a humorous story of his conversation with God. Elder Carr states that he asked God where he wanted him to go after leaving the Air Force. God spoke to him and said, "Rapid City". Elder Carr asked again to make sure he heard the Lord correctly. God spoke again and said, "Rapid City". Elder Carr testifies that he asked God a third time because he knows God has a sense of humor. God, in his loving kindness, had patience and again told Elder Carr "Rapid City"! In obedience to the will of God, Elder Carr returned to Rapid City, SD on January 3, 1993.
Since that time, Elder Carr continues to work in several departments of the church and is busy doing whatever his hands find to do. Elder Carr has served Faith Temple as Choir President, Praise and Worship Leader, Sunday School Teacher, Sunday School Superintendent, Youth Pastor ,Board of Directors member and Chief Adjutant to Bishop Kelly. In September 1993, Elder Carr was appointed Jurisdictional Secretary of the Church of God in Christ for the state of South Dakota. On December 8, 2015 Elder Carr was consecrated to the office of Auxillary Bishop in the Church of God in Christ. In April 2017, the General Assemply of the Church of God in Christ voted to assign Bishop Carr as Prelate of the South Dakota Ecclesiastical Jurisdiction. Bishop Carr has succeeded his spiritual father, the late Bishop Lorenzo L. Kelly and is now the pastor of Faith Temple Church of God in Christ, Rapid City, South Dakota. Bishop Carr serves the Black Hills Community as a member of the Rapid City YMCA's mission focus team. This team was created to find ways to keep "Christ" (C) in the YMCA. He is also the president of ACTS Ministries, a non-profit organization dedication to "Affecting Communities Through Serving". Bishop Carr is a dynamic teacher and preacher, anointed to win souls for the kingdom of God.
Bishop Carr is married to his soul mate Evangelist Twana H. Carr. He has three daughters and five sons: Porshea, Kecia, Tera, Tyrus, Hezekiah, Malachi, Johnathan and Eddie, grandchildren and God-children.